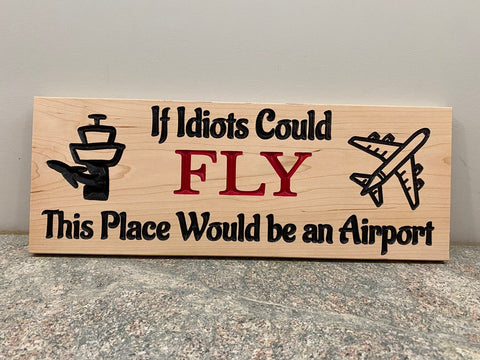 Planeta Woodworking
"If Idiots Could Fly" - Sign
$42.95
$50.00
you save $7.05
Speaking of the Airport, and any public place...you've probably experienced some sort of idiots in your life, and this sign commemorates it perfectly! It reads, "If Idiots Could Fly, This place would be an Airport!" Funnily enough, Airports are always packed full of them!

All jokes aside, this one is sure to make you or your friends laugh! It is a cheeky reminder that laughter is the best decoration, crafted with a blend of wit and sarcasm. Hang it in your home, office, or anywhere where you need a daily dose of laughter!

Measuring Approximately 16" (Length), 6" (Width), and 3/4" (Thickness): We will include a Hanging Hardware Kit for the back, or holes in the corners (Based on your preference!)
This is Carved into Hard Maple, and Hand Painted with Red and Black Lettering/Symbols. Grabbing attention throughout the room. Made in the USA with Domestically Sourced Material.