PLANETA WOODWORKING
Custom Millwork, CNC Machining, Signs, Personalized Glassware & More!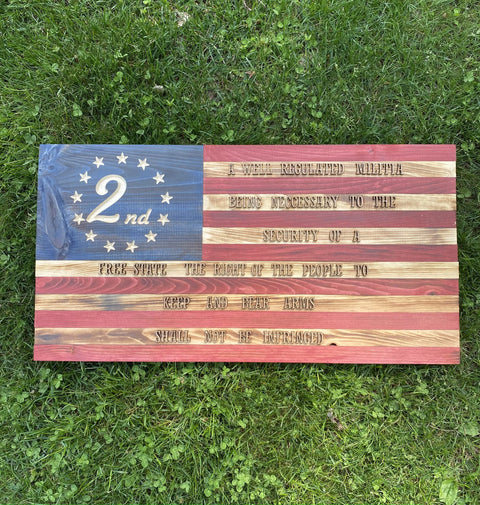 About Us
Planeta Woodworking was established in 2018 by Nick Planeta.
While only 15 years old, his passion for making cutting boards began taking off. He always (and still does) enjoy woodworking and creating things. In March of 2020, Planeta was in his junior year of High School when the world shut down due to the COVID-19 Pandemic. Because of the uncertainty and time off of school, Planeta used his time by woodworking and promoting it on his social media page. Soon, the word spread about his high-quality handmade work, and people wanted these boards.
He started making them daily and eventually partnered with a local store to sell them and started his website to sell online. Eventually, Planeta Woodworking expanded into making more than cutting boards, including custom cabinetry, furniture pieces, Personalized Wood Signs made in the USA, the list goes on. Planeta soon began promoting his slogan, "You Name It, I'll build it!" and was featured by his local newspaper for his five-star woodworking skills. 
Now an Eagle Scout, and Junior Civil Engineering Student at Quinnipiac University, Planeta continues to strive for the best quality on its products and sources all of its supplies from the United States. Planeta Woodworking has grown from a small basement shop into a multifunctional woodworking company whose roots are the traditional woodworking craft. We have begun to branch into the world of Wholesale Manufacturing, Precision Wood CNC Machining, and Laser Engraving. All of our products are handmade, finished, inspected, and shipped from Durham, CT.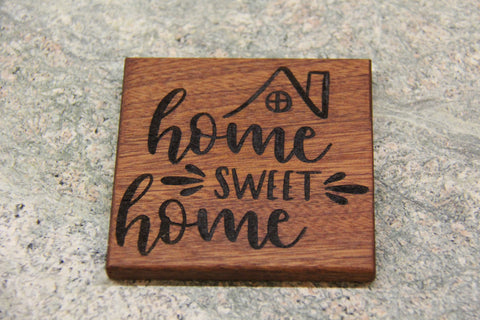 "Home Sweet Home" Coasters
"Home Sweet Home" Coasters are a delightful addition to your home decor, combining charming design with functional protection. Created from high-quality materials, the "Home Sweet Home" coasters bring a stylish and practical feel to any room!
These exquisite coasters are crafted from Sapele, a water-resistant hardwood native to South America. On top of that, we've gone the extra mile by adding a protective wax finish to enhance its water resistance further, ensuring that condensation from your glass won't harm these coasters.

Each coaster comes in a stock size of 3.75" x 3.75" with a thickness of 0.375". If you're looking to personalize your coasters, we offer custom engraving options, allowing you to add family names, logos, or any design you desire! Just place your order and include the note, "Please contact me for customization," in the order details, or submit a custom request HERE.
Available in sets of 4 coasters each! Making them the perfect addition to your home. Order yours today and we'll ship them out ASAP, ensuring you can enjoy both their enticing design and durability!

| | |
| --- | --- |
| Weight | 3 lbs |
| Dimensions | 5 × 5 × 5 in |
Live Edge Ash Coffee Table
This Coffee Table was handcrafted from Solid Ash Wood, which was harvested right in Durham, CT, approximately 2 Miles from Our Shop. It is unique in the center where it began to decay due to the Emerald Ash Borer that attacked most of the Ash trees recently in the Northeast US. We filled the void with Epoxy Resin (Smokey Grey) to seal the wood, and to give it a nice contrast. We also enlisted the help of a local Metal Fabricator (also from Durham, CT) to hand Bend, Weld, and finish the legs for us. This table is 100% American Made, with Domestically Sourced Materials.
At Planeta Woodworking, we utilize the highest quality Lumber and Materials available. All Material is sourced from U.S. based distributors.
Testimonials
What our clients say