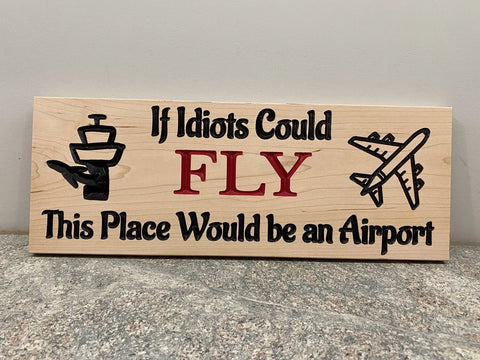 My Store
"If Idiots Could Fly" Sign
This sign is inspired after someone who worked as a store manager for over 35 years, where many experiences were encountered.
It reads: "If Idiots could FLY – This place would be an Airport!"
It measures 6″ Width, 16″ Length and 0.75″ Thickness, constructed from a solid piece of Hard Maple Lumber. (Actual Sizes May vary).
All Planeta Woodworking Signs are constructed with quality down to the final coat of finish. All of our products are coated with a clear coat that will prevent staining from water droplets and ensure longevity over years and years of continued use.
All Products are covered under a 1 year manufacturers defect warranty (which covers any issues that existed in the final piece when initially received. This warranty DOES NOT cover normal wear and tear).