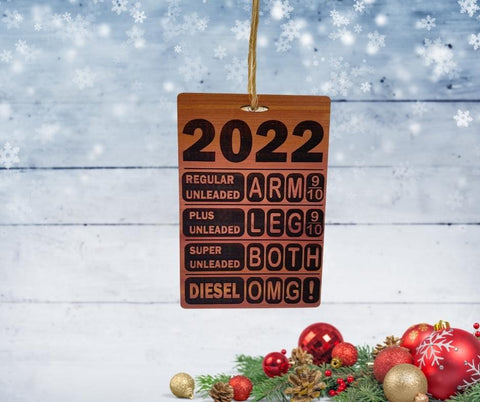 Planeta Woodworking
"It Costs an Arm and a Leg!" - Ornament
$11.99
$14.95
you save $2.96
I'm sure we can all agree that 2022 was one hell of a year! With the leading topic of Gas Prices being up over $4.00/Gallon (US Average) and some places up over $7-8 PER GALLON! That's Insane!
So, why not commemorate the year with a Christmas Tree Ornament that depicts what it costs for each strength of gas (Regular, Premium, Super, and Diesel)? In 20 years, we'll all be looking back and laughing about how crazy this was!

Crafted with attention to detail, this ornament adds a touch of lightheartedness to your holiday decor, reminding us all that the joy of giving doesn't have to come at the expense of your limbs. Hang it on your tree or gift it to someone with a great sense of humor, since we all deserve some laughs during the holiday frenzy.

These Ornaments are available as part of our 2022 "Problems of the Year" Series and will be sold indefinitely.

Dimensions: 4.5" (Length), 3" (Width), 1/4" (Thickness). Made from Cherry and Aromatic Red Cedar.