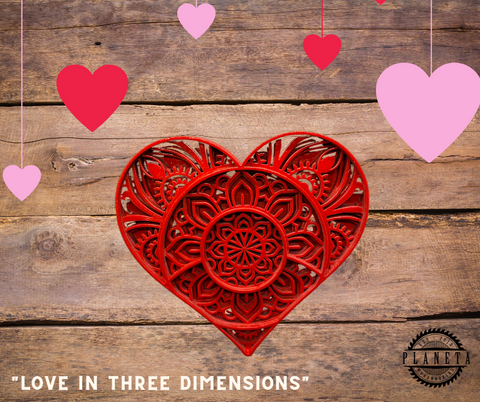 Planeta Woodworking
"Love that NEVER Ends" - 3D Hearts
$11.99
$15.00
you save $3.01
What's better than Love? Well, Love in two dimensions of course, i.e.; a picture in a picture frame. But something EVEN BETTER than that would have to be Love in 3 dimensions!
Throughout multiple iterations, Planeta Woodworking has developed this 3 Dimensional Heart, constructed of multiple layers that are precision Laser Cut from high-quality materials. We then joined the layers for it to give it a 3D vision.
This heart's three-dimensional design adds profound symbolism and detail to embodying the idea of everlasting love. The "Love that NEVER Ends" sculpture has an enduring presence and reminds us that love transcends time and space as a constant force in our loves. Place it in your home or gift it to someone special to symbolize the unwavering and boundless love that exists throughout and perhaps even beyond our world.
We offer these particular hearts in 3 Sizes!
Small: 6" x 6" 
Medium: 8.5" x 8.5" 
Large: 11.25" x 11.25" 
Pair this gift with one of our Personalized Roses: "The Gift that Never Wilts!"  
All Orders of this item that are not personalized, will ship NEXT BUSINESS DAY. That means if ordered after 2 pm EST on a Friday, they will ship the following Monday!