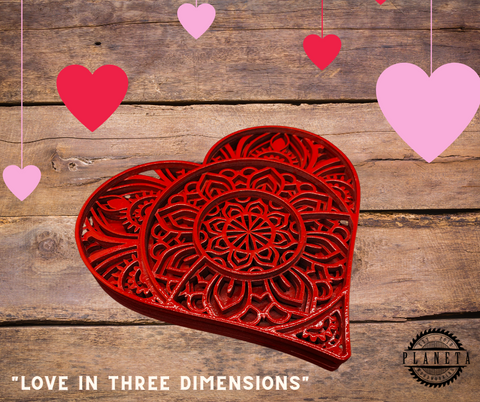 My Store
"Love that NEVER Ends" – 3D Hearts
What's better than Love? Well, Love in two dimensions of course, i.e.; a picture in a picture frame. But something EVEN BETTER than that would have to be Love in 3 dimensions!
Throughout multiple iterations, Planeta Woodworking has developed this 3 Dimensional Heart, constructed of multiple layers that are precision Laser Cut from high quality materials. We then joined the layers in order for it to give it a 3D vision.
We offer these particular hearts in 3 Sizes!
Small: 6″ x 6″ 
Medium: 8.5″ x 8.5″ 
Large: 11.25″ x 11.25″
Pair this gift with one of our Personalized Roses: "The Gift that never Wilts!" 
All Orders of this item that are not Custom, will ship NEXT BUSINESS DAY. That means if ordered after 2pm EST on a Friday, they will ship the following Monday!
| | |
| --- | --- |
| Weight | 2 lbs |
| Dimensions | 18 × 12 × 3 in |
| Size | Small, Medium, Large |