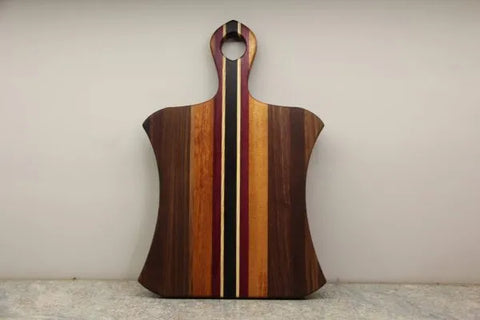 Planeta Woodworking
"The Cello" - Charcuterie Board
We named this Charcuterie Board after a musical instrument called "The Cello." "The Cello" is a source of inspiration for this exceptional cutting board. Just like the cello itself, renowned for its timeless beauty and soul-stirring music, our board embodies grace and sophistication that captivates the senses.

The Approximate Dimensions of this Charcuterie Board are 18.5" (Length), 12" (Width - At Widest Points), and 1.0" (Thickness). It is hand-crafted with precision from a selection of fine woods, including Walnut, South American Mahogany, Purple Heart, and Wenge. 
All Planeta Woodworking Cutting Boards and Charcuterie Boards are treated with Industry Leading Food Grade Finishes. We use Howard's Food Grade Mineral Oil and Butcher Block Conditioner. You can learn more about the finishes we use on Cutting Boards and Charcuterie Boards HERE!
| | |
| --- | --- |
| Dimensions | 12 × 18 × 3 in |