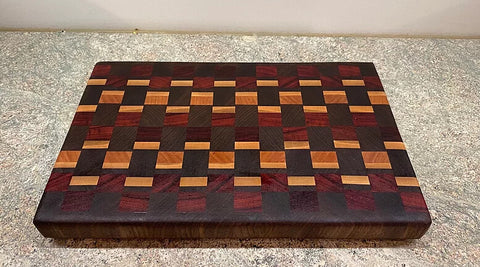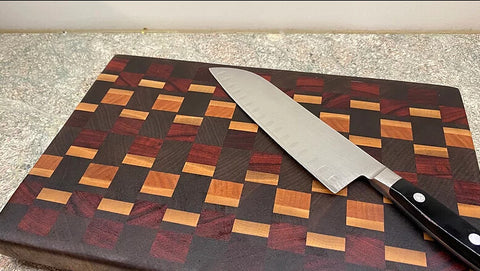 Planeta Woodworking
"Complete Chaos!" - End Grain Cutting Board
Check out our latest creation, the "Complete Chaos!" End Grain Cutting Board, skillfully crafted from mesmerizing Walnut, Maple, Cherry, and Padauk Exotic woods! This cutting board is a true testament to Planeta Woodworking's exquisite craftsmanship and the exceptional quality of our wood selection.
Measuring approximately 12" X 14" X 1", these End Grain Cutting Boards are meticulously constructed from carefully arranged wood grains, resulting in a captivating pattern that not only enhances its visual appeal but also provides exceptional durability against knife marks. Whether you're whipping up a quick weekday meal or hosting an extravagant dinner party, the "Complete Chaos!" End Grain Cutting Board is specifically designed to elevate your culinary experience.
Each board is meticulously finished with up to 400 grit sandpaper and double-coated with mineral oil, complemented by a layer of butcher block conditioner to enhance its water resistance. Additionally, with every order, you'll receive detailed instructions on how to maintain your cutting board after regular use, ensuring its longevity and peak performance for years to come.