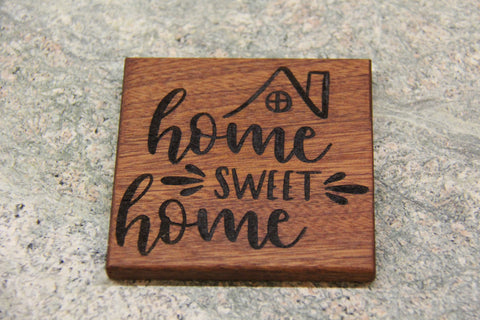 Planeta Woodworking
"Home Sweet Home" Coasters
"Home Sweet Home" Coasters are a delightful addition to your home decor, combining charming design with functional protection. Created from high-quality materials, the "Home Sweet Home" coasters bring a stylish and practical feel to any room!
These exquisite coasters are crafted from Sapele, a water-resistant hardwood native to South America. On top of that, we've gone the extra mile by adding a protective wax finish to enhance its water resistance further, ensuring that condensation from your glass won't harm these coasters.

Each coaster comes in a stock size of 3.75" x 3.75" with a thickness of 0.375". If you're looking to personalize your coasters, we offer custom engraving options, allowing you to add family names, logos, or any design you desire! Just place your order and include the note, "Please contact me for customization," in the order details, or submit a custom request HERE.
Available in sets of 4 coasters each! Making them the perfect addition to your home. Order yours today and we'll ship them out ASAP, ensuring you can enjoy both their enticing design and durability!

| | |
| --- | --- |
| Weight | 3 lbs |
| Dimensions | 5 × 5 × 5 in |