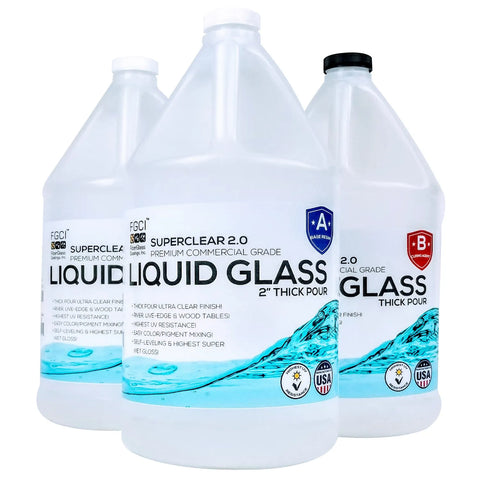 My Store
Liquid Glass Deep Pour Epoxy – 3 Gallon Kit
$289.95
$309.99
you save $20.04
Our Liquid Glass Deep Pour Epoxy is absolutely unparalleled with a deep pour capability of 2-6 inches and gives you unmatched industry performance, and convenience by eliminating 75% of your work, with the clearest finish you can get on the market today! This Kit includes 2 Gallon of Base Resin and 1 Gallon of Activator for a total of 3 gallons of epoxy.
HIGHEST EPOXY RESIN UV PROTECTION! Our SuperClear Liquid Glass 2" Thick Pour Has The Highest UV Yellowing Resistance Out Of All Competitors!

HIGHEST PERFORMANCE LEVEL! SuperClear 2.0 Is Considered The Best Epoxy Resin For Wood, Table Diy, Countertops, Tabletops & ALL Epoxy Table Ideas!

EXCELLENT FOR Colored Epoxy Resin Wood Filler Applications, Or As A Clear Epoxy Resin Wood Filler & Filling Large Voids In Wood With Epoxy POURING UP TO 2" PLUS!

WORKS AMAZINGLY With Metallic Epoxy Pigment! Mixes Flawlessly With Epoxy Resin Color Pigments, Mica Powders Like Black Diamond Pigments & Creates A Superb Colored Epoxy For Wood!

FGCI is the Original Manufacturer, and they have Been in this Business for over 60 years! SUPERCLEAR 2.0 IS MADE IN THE USA! ODOR-FREE! ZERO VOCs!