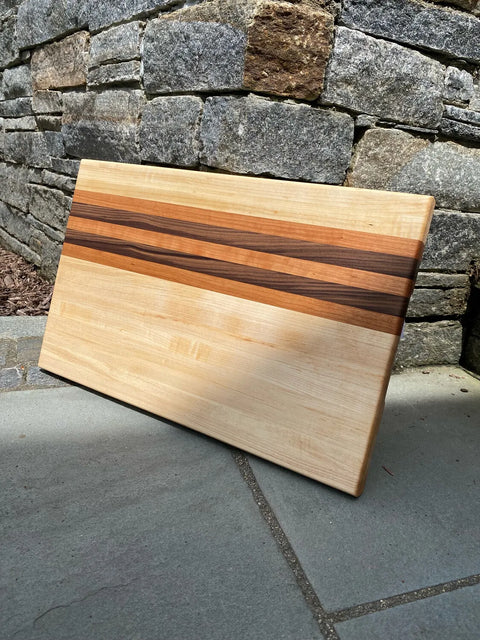 Planeta Woodworking
"The OG" - Classic Cutting Board
Introducing our best-selling cutting board, affectionately known as the "OG," paying homage to our original design! This classic beauty features an edge grain construction, showcasing a harmonious blend of Maple, Walnut, and Cherry hardwoods.
This Particular Cutting Board is offered in 2 sizes;
Small (12″ x 18″ x 1.0″)
Large (14″ x 20″ x 1.25″)
All three of the above materials used are the "classic" hardwoods in handmade cutting boards; Maple, Cherry, and Walnut all carry the characteristics of hardness, resilience to scratches/knife marks, and waterproofness/closed-grain (when treated properly).
Wood Cutting Boards are very much better than plastic, and according to the Food and Nutrition Organization; "Wood is a more durable material, it is a common choice for cutting boards — but not all wood is created equal. Harder woods such as maple, teak, and acacia are less prone to damage from knives and absorb less water than softer woods such as cypress."
We HIGHLY recommend adding a Maintenance Kit with your board purchase! It will include all the materials and comprehensive directions on how to care for your board. We also offer a Professional Cutting Board Refinishing Service if you choose that. Please note: Cutting Boards should be re-oiled, and waxed at least EVERY 2 months, and they should NEVER be put in the dishwasher. Warranty claims for boards that are placed in a dishwasher will be rejected. Planeta Woodworking reserves the right to reject any board for refinishing or replacing under warranty if any terms, conditions, or directions are not followed correctly. 
| | |
| --- | --- |
| Weight | 10 lbs |
| Dimensions | 12" x 18" x 1.0" (Small), 14" x 20" x 1.25" (Large) |
| Size | Small, Large |